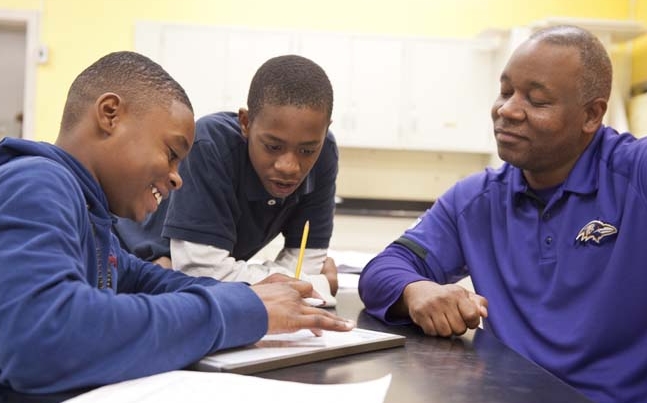 Mentor Spotlight: Howard Johnson
"I put in what they put in," says mentor Howard Johnson, referring to his 401K mentoring plan where he matches his scholars investment in their education, just like companies do for their employees. Howard asks that scholars put their all into advancing their academics and becoming leaders in their community. In return, Howard commits to being a mentor that will go above and beyond in supporting them.
By the time scholars finish a year of Afterschool Academy with mentor Howard Johnson, they have signed a contract and fulfilled all terms of their agreement. It is the initial step Howard takes with scholars before committing to them as a mentor.
Scholars commit to maintaining good behavior during mentoring sessions, striving to earn grades of 80 and above during the school year, assisting other team members in their academic pursuits, and serving as "leaders" and not "followers" within Higher Achievement.
"Middle school students can be a challenge, but with a little guidance, patience, and support, these students have the potential to be great high school students and young adults that will become contributing members of society. They just need to know that someone cares," explains Howard.
Howard mentors at the South Baltimore Achievement Center in a neighborhood called Cherry Hill, which is plagued by violence and limited opportunity. Howard can relate to this. As he said, "I grew up in this community and I want my presence to communicate that if I became a successful, contributing member of society, they can also do it. The perils that they face in their respective communities are only obstacles if they allow them to be."
Beyond supporting students in making remarkable academic gains, Howard works diligently to support students in their social, emotional, and leadership growth. When Ricardo Jones (one of Howard's scholars) started at Higher Achievement, he was a jokester who often derailed the academic efforts of students around him. Now, Ricardo corrects others when they misbehave, and has improved his grades from 80s to 90s. Last year, Ricardo won the school spelling bee. Of Ricardo, Howard said, "To see his poise and confidence shine through made me extremely proud. I felt like that was my son or relative on stage."
Howard believes that exposure is key: "How many engineers, lawyers, chiropractors, or people on Wall Street do scholars see?"
Another scholar, Tysherra, set a goal of attending Baltimore Polytechnic Institute. When Howard heard this he jumped at the opportunity to introduce her to a friend, Lynae, who graduated from Poly and is now a practicing lawyer. Over the winter holiday break in 2013, Tysherra and Howard observed his friend at work for about 2 hours. During the lunch break, Lynae asked Tysherra if she had any questions. To his surprise, Tysherra pulled out a stack of index cards with questions. As Howard described, "Lynae looked at me and asked, 'Did you tell her to do this?' and I replied, 'No.' I was just as shocked and impressed at Tysherra as she was." This experience truly paid off – Tysherra started her Freshman year at Baltimore Polytechnic Institute in August 2015.
Howard's philosophy with scholars is simple: if you reward them for doing well you will get great results. At the end of each quarter he takes scholars who earn all 80% and above on their report cards to participate in fun activities such as: laser tag, go-cart racing, and trips to arcades. When word got out that Howard's scholars were being rewarded for the academic achievements, every scholar wanted to be part of Howard's mentoring group. Noticing the excitement, he extended his incentive program to the entire South Baltimore Achievement Center.
Howard is working to create a cycle of giving back in his community. He stresses to scholars that his expectation is for them to come back to the community and support others, the same way mentors have supported them. Howard is filled with joy and satisfaction, knowing that he is giving back to children who live in the same community where he grew up. As Howard explained, "I'm compelled to do this. I wake up every morning and look in the mirror and say, 'I need to do this.'"
FUTURE OF HIGHER ACHIEVEMENT
In another 40 years, I see Higher Achievement expanding and positively impacting more disenfranchised communities.
If HA was a person, and celebrating their 40th birthday, what kind of party do you think they'd throw?  A party which celebrates the successes thus far, while also recognizing the work left to be done.
Imagine a world where every child has a chance to be part of a program like Higher Achievement. My hope is that programs like Higher Achievement continue to have a positive impact on the communities where they reside. I believe they will – by instilling valuable core values and culture principles in the children.  Higher Achievement is helping to resurrect some of these depressed communities by investing in the most important assets, the children.