Sponsor the Going Places Gala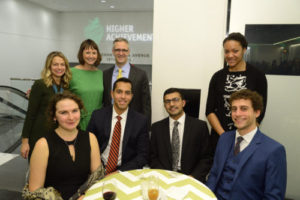 THE EVENT
The annual Going Places Gala celebrates 43 years of dedication and commitment by Higher Achievement scholars, mentors, and champions.
Our Gala honoree:
Richard England
Madison Wealth Management
The England Family Foundation
The evening will feature a performance by Higher Achievement scholars and an alumni speaker inside the Warner Theatre, followed by a cocktail reception and buffet dinner. Current scholars and alumni will be joining guests during the reception to speak about their personal experience.
THE PLACE AND TIME
The Gala will be held at the Warner Theatre (513 13th St. NW) on Tuesday, October 23, 2018. Doors open at 6:00pm. The evening performance begins at 6:30pm.
SPONSORSHIP
Join the community of more than 600 supports who have taken the lead on closing the opportunity gap for DC scholars by supporting the Going Places Gala. Click here to find information about sponsorship opportunities.
**For Valedictorian sponsors ($25,000 and above), please contact Janice Cori to discuss your sponsorship fulfillment and benefits.