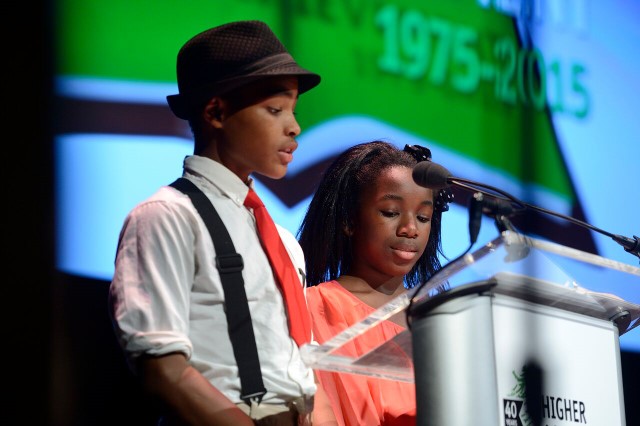 The Event        
The annual Going Places Gala celebrates 42 years of dedication and commitment by Higher Achievement scholars, mentors, and champions. The evening will feature a performance by Higher Achievement scholars and alumni inside the Warner Theatre, followed by a cocktail reception and buffet dinner. Current scholars and alumni will be joining guests during the reception to speak about their personal experiences in the program.
The Place and Time
The Higher Achievement Going Places Gala honoring Dr. John B. King, Jr. will be held at the Warner Theatre (513 13th St. NW) on Wednesday, November 1, 2017.
6:00 p.m. Doors open   //   6:30 p.m. Performance and Awards   //   7:30 p.m. Reception
Check out our Facebook Event Page!
Gala Leadership
CHAIR
Mitchell N. Schear, JBG SMITH
CO-CHAIRS
Sara Akbar, Oracle
Wendy Feldman Block, Savills Studley
Jay Epstien, DLA Piper LLP
Michael Goodwin, Arnold & Porter Kaye Scholer LLP
Michael Kelley, JBG SMITH
Sponsor
Join more than 600 supporters who are building bridges and closing the opportunity gap for DC scholars by supporting the 2017 Going Places Gala. Click here to find information about sponsorship opportunities.
Valedictorian
ADI Construction
Arnold & Porter Kaye Scholer LLP
Bates White Economic Consulting
Dweck Family Foundation
EagleBank
JBG SMITH
Quadrangle Development Corporation
Red Coats, Inc. | Admiral Security
The Schear Family
The Whiting-Turner Contracting Co.
Salutatorian
Bender Foundation
BMS
DLA Piper
Kastle Systems International, Inc.
Stephen B. Goldstein and Antonietta Corvasce
Venable LLP
Summa Cum Laude
Bill & Sunny Alsup
Dan Masur and Sherry Rhodes
Daryl and Steven Roth
Eng Garcia Grant & Co.
Forest City Washington
Gates Hudson
IB Associates Limited Partnership
Jerry Taylor and Nancy Bryant Foundation
John and Carol Boochever
Mayer Brown
Metropolitan Properties
Morgan Stanley
New York Life Insurance Co.
Oracle
Robert and Arlene Kogod Family Foundation
Robert H. Smith Family Foundation
The Kaempfer Family Foundation, Inc.
Magna Cum Laude
American Mechanical Services, LLC
Ashok and Leene Nayyar
Bernstein Management Corporation
C&C Complete Services
Choice Restoration Services, Inc.
Gorove/Slade Associates
RBC Wealth Management
Schindler Elevator Corporation
The Wilczynski Foundation and The Marshall B Coyne Foundation
Cum Laude
Altria Group
AmerisourceBergen
Berlin, Ramos & Company, P.A.
BOCA Group East, LLC
CBRE
Cushman & Wakefield
D|Watts Construction
Dan and Stacy Dranginis
Deloitte LLP
Erik and Katie Linn
EvensonBest
Fidelity National Title, National Commercial Services D.C.
Fivesquares Development, LLC
Fried, Frank, Harris, Shriver & Jacobson LLP
Greenstein DeLorme & Luchs
Harmon, Inc.
Hartman Design Group Inc.
HBW Construction
HFF, Sue and George Carras
Host Hotels & Resorts, Inc.
InterSpec Design, Inc.
Linda and Jim Beers
Manders Decorating Company
Modus Hotels
Offit Kurman
Otis Elevator Company
Oxford Properties
Ratner Companies
Ray & Anne Ritchey and Boston Properties
Reed Smith LLP
Siemens Industry
Spectrum General Contracting
Sullivan & Cromwell
Tadjer Cohen Edelson Associates Inc.
The Gewirz, Kaplan and Small Families
The Korth Companies, Inc.
The Meltzer Group
The Meridian Group
Tom and Alison Cassels
Velsor Properties
Wilkes Artis, Chtd.
Honor Roll
Belfast Valley Contractors, Inc.
EDENS
Ernie & Julie Wittich
Ezra Company
Gotham Energy Advisors
Harvey Cleary
Heidenberger Construction
Holly Hassett
HYL Architecture
Lowenstein Sandler LLP
SK&A Group
Tech Painting | Tech Contracting
Tri-Phase Services, Inc