THANK YOU
Special thanks to our co-chairs, host committee, our honoree Rick England, sponsors and attendees for helping Higher Achievement to raise funds that will create even more leadership opportunities for our 500 scholars!
Missed the 2018 gala but still want to attend an event to learn more about Higher Achievement in Washington DC? Attend a Middle School Matters tour to find out how you can get moved involved! RSVP today.
THE EVENT
The annual Going Places Gala celebrates 40+ years of dedication and commitment by Higher Achievement scholars, mentors, and champions.
Our 2018 Gala honoree:
Richard England
Madison Wealth Management
The England Family Foundation
The evening featured a performance by Higher Achievement scholars and an alumni speaker inside the Warner Theatre, followed by a cocktail reception. Current scholars and alumni joined guests during the reception to speak about their personal experience.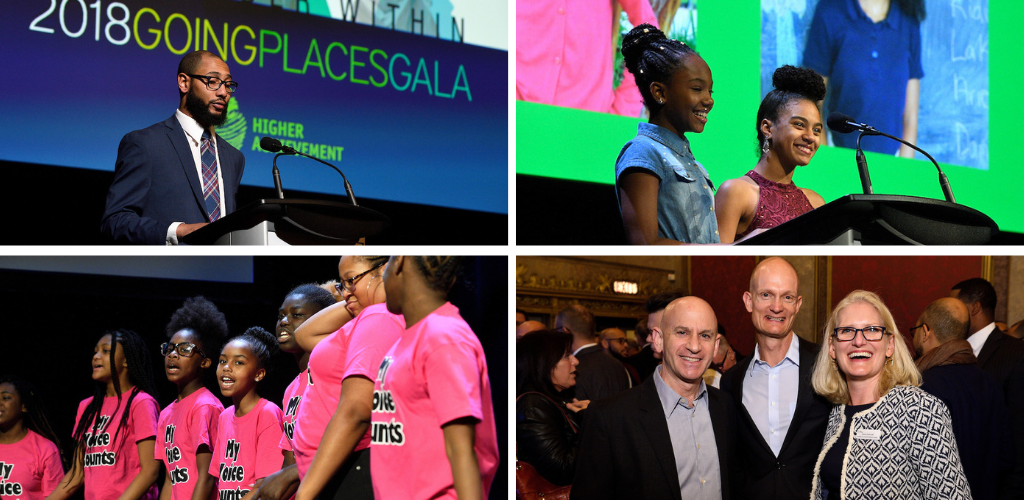 2018 Gala Leadership
CO-CHAIRS
Mitchell N. Schear
Jay Epstien
Lynsey Wood Jeffries
Thalia T. Washington
2018 Sponsors
Valedictorian
Bates White Economic Consulting
Dweck Family Foundation
EagleBank
England Family Foundation
The Schear Family 
Salutatorian
Bender Foundation
DLA Piper
Stephen B. Goldstein & Antonietta Corvasce
The Whiting-Turner Contracting Co.
Venable LLP
Summa Cum Laude
A. James & Alice B. Clark Foundation
Artemis Real Estate Partners + Deborah Harmon and Dr. Robert Seder
Dan Masur and Sherry Rhodes
Eng Garcia Grant & Co.
Forest City Washington
Function Enterprises, Inc.
Gates Hudson
JBG SMITH
Jerry Taylor and Nancy Bryant Foundation
John and Carol Boochever
K4 Solutions and Sumi Krishnan
Kastle Systems International, Inc. 
Lucas Kaempfer Foundation
Mayer Brown
Metropolitan Properties
New York Life Insurance Co.
Quadrangle Development Corporation 
Robert and Arlene Kogod Family Foundation
Zuckerman Gravely Management
Magna Cum Laude
Madison Wealth Management 
Cum Laude
Altria Group
American Real Estate Partners
Arent Fox LLP
Bernstein Management Corporation 
BMS
C&C Complete Services
Choice Restoration Services, Inc.
Cooper Carry
Cushman & Wakefield
Dan and Stacy Dranginis
Deloitte LLP
Erik and Katie Linn
EvensonBest
Fidelity National Title Insurance Company, National Commercial Services, D.C. 
Fivesquares Development
Hartman Design Group, Inc. 
HBW Construction 
InterSpec Design, Inc.
Joe Saka
Kathleen and Steve Theriot
KVS Title Insurance
Linda and Jim Beers
Magdieli Property Management LLC
Mary and Jeff Zients 
Michael and Priscilla Goodwin
Modus Hotels
NFP | The Meltzer Group
Otis Elevator Company
RBC Wealth Management
Red Coats, Inc. | Admiral Security 
Rockville Office of Cherry Bekaert, CPAs and Advisors 
Siemens Industry
The Gewirz, Kaplan and Small Families
The Meridian Group
The Wilczynski Foundation and The Marshall B. Coyne Foundation
Tom and Alison Cassels
Urban Alliance Foundation
Honor Roll
Adrienne Rosen
Baum Foundation
Belfast Valley Contractors, Inc. 
Citi Private Bank
Colonial Parking
EDENS
Ernie and Julie Wittich
Events DC
Graystone Consulting
Hartman Executive Advisors 
Holly Hassett
HYL Architecture
JCM Associates, Inc. 
Mara & David Olguin
Mary F. Maguire, Abt Associates 
McLaughlin Ryder Investments, Inc. 
Melanie and Larry Nussdorf
Noblis, Inc. 
Ratner Family Foundation
SK&A Group
Transwestern
Velsor Properties
William Collins