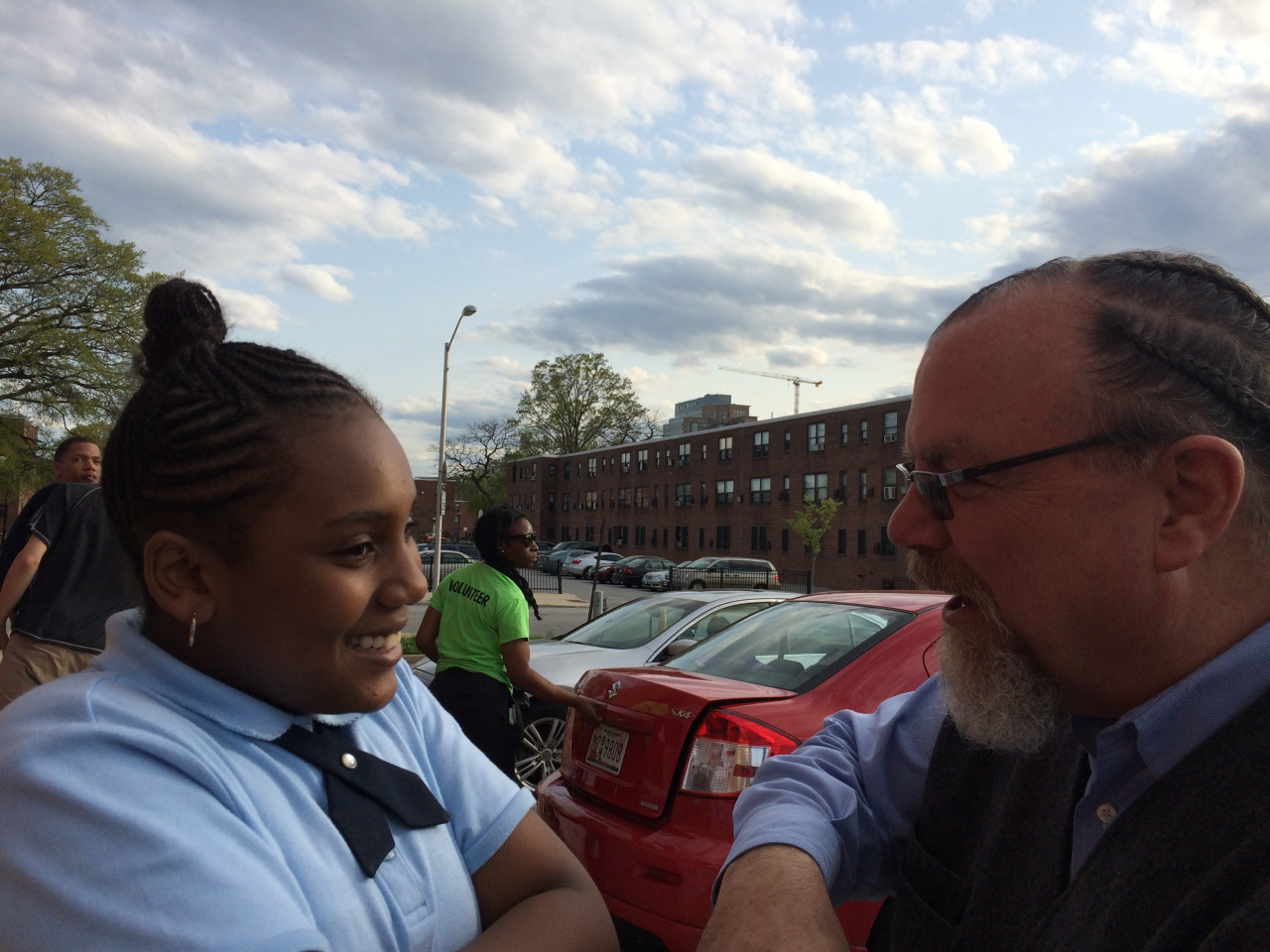 Mentor Spotlight: Mike Bender
Higher Achievement Mentor
Soon after Mike Bender moved to Baltimore nine years ago, he knew he wanted to leave a lasting impact on his new city. Mike grew up in Cleveland, OH, with a single mom and knew firsthand the huge effect caring adults can have on young people.
"When I came to Baltimore, I couldn't find an organization to be a part of," says Mike, "I even explored starting one myself." While attending a speaking engagement by Higher Achievement Board Member and President of the Baltimore Area United Way Fund Mark Furst, Mike first heard about Higher Achievement's middle school mentoring program.
Mike decided to join Higher Achievement as a mentor because of what he calls "a consistent culture." He was impressed with how Higher Achievement staff supported scholars academically, but also socially and emotionally, as seen in examples like the annual Love Out Loud poetry performance.
During one particularly memorable Love Out Loud, two of Mike's extremely shy scholars were reluctant to share their own poems on stage in front of strangers. To motivate them, Mike offered to put cornrows in his hair in exchange for their participation. Mike's scholars jumped at the opportunity to see their 60-year-old white mentor with a traditionally black hairstyle, and both scholars participated in Love Out Loud. In return, Mike was true to his word and put his hair in cornrows. "The kids were blown away!" says Mike. "They thought I wouldn't do it."
It is this follow-through that Mike feels is crucial to his role as a mentor. "Scholars should know we are there for them and if we say something, we mean it," says Mike. "I think that's all they want from us – to show we're invested in them."
Mike is committed to helping scholars build confidence and he hopes that his scholars know there is no limit to their dreams and they can achieve anything they put their minds to. Mike is so passionate about Higher Achievement that he has recruited his friends and family as mentors and currently serves on the Advisory Board.
Ultimately, what motivates Mike to continue mentoring is the feeling of hope that he has in his adopted hometown of Baltimore. "I experience many, many things in working with Higher Achievement," says Mike. "The way in which the scholars react, the way in which outsiders support the organization, the reaction of the public to our scholars – all these give me renewed hope."
FUTURE OF HIGHER ACHIEVEMENT
In another 40 years, I see Higher Achievement continuing to make a difference in the lives of young people. Perhaps increased in size, not worrying about annual funding, and a nationally recognized model for working with inner-city, middle school students.
If Higher Achievement was a person, and celebrating their 40th birthday, what kind of party do you think they'd throw? I think they would throw a party that would celebrate the success of their life, take time for contemplating their success and take a moment to renew themselves.
Imagine a world where every child has a chance to be part of a program like Higher Achievement. It would look like a better world!