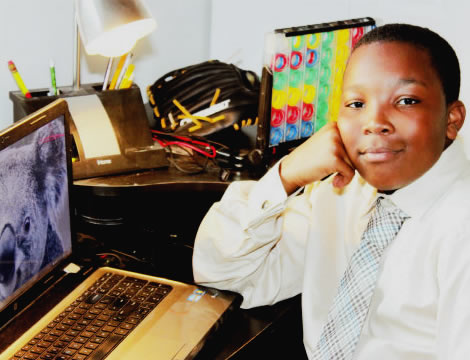 Alumnus Profile: Keimon Dupree
Higher Achievement Alumnus
At an early age, Keimon Dupree's parents knew that they had an exceptionally bright son. When Keimon's dad brought home a set of schematics from an electrical class he was taking as part of a work training program, Keimon curiously picked them up, scrutinized them, and interpreted the information. "It blows my mind at the things he can do. He just grasps everything so well –on the first try," says his mom Keisha Dupree.
Recognizing their son's strengths, Keimon's parents knew that it was their duty to keep their son engaged and busy. So they enrolled Keimon and his brother into a new program that was launching in Pittsburgh called Higher Achievement. Keimon's mother found out about Higher Achievement through a friend via Facebook and jumped at the opportunity to get him involved.
A driven scholar with incredible leadership skills, Keimon served as the ambassador for the Hill District center and represented his fellow scholars at events. "Keimon's accomplishments with Higher Achievement are many," says Dr. Wendy Etheridge-Smith, Higher Achievement's Executive Director in Pittsburgh. "He was a youth keynote speaker at the 2012 National Summer Learning Conference, as well as the 2013 youth speaker at the 'Lights On Afterschool' event at the Consol Center in October 2013. This past year at Pittsburgh's first-ever Green Apple Award, Keimon became the first Higher Achievement Pittsburgh scholar to win a $1,000 scholarship through the Norman and Ruth Rales Foundation, which has pledged a special award to one eighth grade graduate per city who exemplifies Higher Achievement culture and academic excellence."
Like most scholars, Keimon's favorite aspect of Higher Achievement was attending college trips. "My favorite things about the college trip were participating in the classes and they taught us like we were college students. It made feel like I was ready for college," says Keimon. Keimon is currently starting his first year at Urban Pathways Charter School in downtown Pittsburgh. Upon Keimon's entry to high school, he scored an impressive score of 256 on the Urban Pathways Northwest Evaluation Association's Measures of Academic Progress (MAP) assessment which consists of college-level math. Impressively, his score actually beat all seniors who took the test that year.
Keimon credits a lot of his current learning behaviors directly to Higher Achievement. "I took a lot of listening skills with me," he says. "Before Higher Achievement sometimes I wouldn't pay attention in class, but now since being a part of Higher Achievement, I pay more attention, am organized, and follow up in class." He now describes himself as an active student in classroom discussions.
Keimon is also appreciative of all the relationships he has built during his time at Higher Achievement, especially his relationship with his literature mentor, Ms. Emily. "She always stayed active with us and was on top of us making sure our work was done," he describes. Even though he is now in high school, Ms. Emily checks on Keimon and sends him postcards to praise his achievements.
Recently, one of those achievements was maintaining a perfect 4.0 for his freshman year. Thanks to his Higher Achievement college trip, Keimon is already thinking about getting a degree in mechanical engineering from either Harvard University, Massachusetts Institute of Technology, or Carnegie Mellon University.
FUTURE OF HIGHER ACHIEVEMENT
In another 40 years, I see Higher Achievement becoming one of the biggest groups that will help children succeed in their future life and make the world a better place by bringing more success into our world.
If Higher Achievement was a person, and celebrating their 40th birthday, what kind of party do you think they'd throw?They would probably throw a party where they would have activities such as mini game shows that help people learn and maybe just an original pizza party.
Imagine a world where every child has a chance to be part of a program like Higher Achievement. It would make HA become a school and soon advance to one of the best schools that helps give children the opportunities and success that they want in their lives.