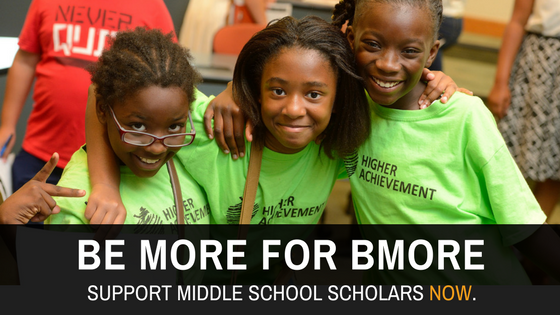 Higher Achievement's annual Afterschool Academy is wrapping up and we're getting ready for Summer Academy! This year, we've served 205 scholars in Baltimore. Scholars have taken part in amazing activities, like Maryland Science Olympiad and Love Out Loud, and taken field trips to places like the National Museum of African American History. 67% of scholars have improved Math and ELA grades, and our 8th grade graduates are getting ready to transition to high school!
Federal and local funds supporting Higher Achievement are in jeopardy. 21st CCLC funds are at risk, and the Baltimore City Public Schools budget is facing a deficit not just this year, but for years to come. Higher Achievement must step up to support scholars more now than ever. Cuts could mean the loss of 1,000 teachers and much more of what scholars love about school and need to succeed.
You can help by donating today.
Donations made through the Be More 4 BMore campaign support Higher Achievement's entire mission in Baltimore and will not be designated to a specific program.